If you can't find the answers you're after, please give us a call on (08) 9247 8600 between 8.30am-4.30pm and we'd love to help! Alternatively, please send us a message via the Contact page and we'll reply asap!
Your Account
We are a wholesale supplier and only sell to qualified hair and beauty professionals in Western Australia. If you believe you hold the relevant qualifications, own/manage a salon or you're currently training to become a certified professional please click on 'Register' at the top of the page and fill in application form to become a customer. You only need to register and pay the fee once. If you already have an account, please 'Login for Prices' using your ID. If you've forgotten your password, follow the prompts.
The new website requires you to register again (but we think it's easy, and worth it)!
To login for the first time, please enter your account email address and click "Forgot/Reset Password". You will then receive a temporary password.
Alternatively, if you have an account with Hair Mart but are unsure of your account email address, please email csd@wahb.com.au with your ID number, Name, Contact phone number and your preferred email address for business.
We love the hair and beauty industry and before we allow any customer to shop with us we ensure they're a qualified professional. It takes a fair effort to maintain this integrity, and the registration fee allows us to make all the checks necessary and it also part covers the cost of producing your ID card – we cover the other part! Once confirmed a professional, a personalised ID card with your photo is then printed and posted to successful applicants. You'll make your money back in no time once you've got access to our wholesale prices! In fact, our ID system is so highly regarded that other suppliers even accept our card as proof of qualification!
Any card that needs replacement, regardless of the circumstances, will incur a $7.50 re-issue fee. This is to cover the cost of producing the card and postage. Please do notify us of any stolen cards – we can make sure we put a note against your account to stop anyone else from using your ID.
Once logged into your account, click the 'Contacts' link on the orange header. You are able to update your name and account access information here.
Alternatively, you can add or modify a delivery address by clicking on the 'Account' link in the orange header, followed by the 'Delivery Addresses' tab.
If you are already registered with the new website, simply click on 'Login for Prices' enter your account email address, then click 'Forgot/Reset password'. A temporary password will be emailed to you immediately.
If you are a Hair Mart customer, but you're unsure of your account email, please email csd@wahb.com.au with your ID number, Name, Contact phone number and your preferred email address for business. We will respond as soon as possible.
Login to your account.
Click on 'Account' (found in the orange header).
Click on the grey 'Transactions' box.
You can then filter the results, as below: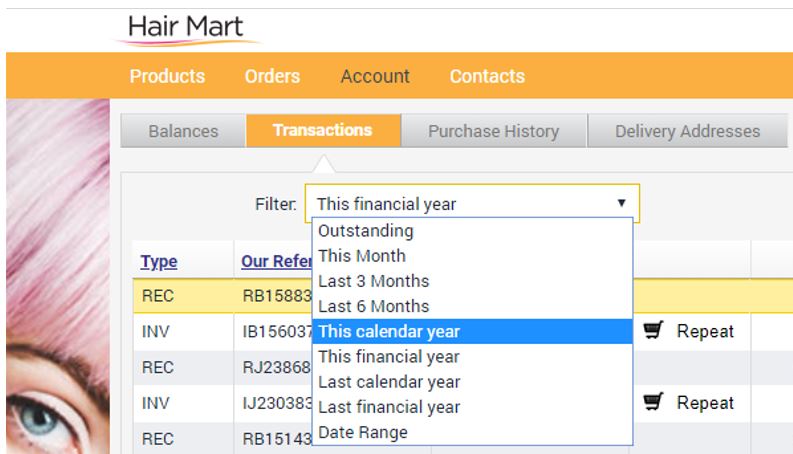 By double-clicking on an invoice line in the table, it will bring up details of that transaction. From this screen, you can repeat the transaction (if you'd like to receive the goods again) or print the invoice details.
Your Orders
Login to your account via the 'Login for Prices' (top right of screen)
Browse the range of products via the Products tab (can be filtered by category and brand)
Click 'Add'. The item will be entered into your cart. You can view the items in your cart by clicking 'View Cart' found on the top orange header.
Once you've added all the products you'd like to purchase to your cart, click 'View Cart' (orange header), followed by 'Checkout' (pink button found at bottom of screen).
Follow the prompts to add your delivery details and your payment details.
Please ensure you are logged into your personal account on our site and that the email address provided is correct. Once the transport company has collected your order from our warehouse, you will be sent an email with your tracking link.
Can't see the email? Please check your junk inbox. Still no luck? Please give our office a call and we'll do our best to trace your order through the transport company.
We're unable to amend/cancel orders that have already been processed and despatched. If you notify us immediately of any changes to your order, we'll do our best to accommodate this. Please refer to our returns policy under 'Returns and Warranties' in FAQ's for more details.
Login to your account.
Click on 'Orders' (found in the orange header).
You can then view by
Purchase Orders
Stock On Order
Previous Orders
Products can be filtered by brand and category. Simply use the drop down menus to filter the products you see. Alternatively, you can search for an item by code, description and brand via the search box. The search box can be found when you click on the 'Products' link in the orange heading, followed by 'Find Products' tab.
Here's a few hints for a speedy checkout process:
Add items you regularly order to your favourites list. From there, you can simply add what you need to your cart.
You can 'reorder' previous orders you've placed.
> Click on 'Account' followed by the 'Transactions' tab. From here, find the order you'd like to have delivered again, and click 'Repeat'. The items will automatically be added to your cart. Simply 'View Cart' and add any extra items, modify quantities or remove what you don't need!
Particularly loved an item you've previously ordered but can't remember the brand to purchase it again? No need to waste time scrolling through the site:
> Click on 'Account' followed by the 'Purchase History' tab. From here, you can filter your results by date (if you can vaguely remember when you last ordered it)! Then, click on the heading title to sort the results by order (e.g. by description, by date). Once found, simply click 'Add'.
Upon submitting an order you will see the message "Order Completed Successfully" if everything has been processed correctly.
A confirmation email will be sent to your account email address, please check your junk email (add us to your address book for future orders).
Alternatively, click on 'Orders' link in the orange header. You will see any successful orders listed under Purchase Orders.
a) I have received my item and it is damaged. What should I do?
We are sorry your order has been damaged, please accept our apologies for any inconvenience this may have caused. Please note if your order has been received damaged we request that you report this upon arrival of your order (or within 7 days of receipt of your order) on 9247 8600. We can then assess the damage and arrange a suitable solution for you.
b) There is an item missing from my order. What should I do?
The most common reason for this occurring is that the item is out of stock. If an item is out of stock, our team will attempt to call you so we can notify you prior to your order being despatched. If we are unable to reach you, the remainder of your order will be sent to avoid delays and a refund will be arranged for those items we could not supply. If you have not received a phone call/refund please call our team on 08 9247 8603.
c) I received the wrong item. What do I do?
We're very sorry! Please give us a call on (08) 9247 8600 within 7 days of receipt of your order and we'll arrange for collection of the wrong item and delivery of the required products.
Delivery
We deliver to all areas of Western Australia
We charge a flat rate (regardless of weight)* for your convenience and benefit for ordering online. The charge depends on your postcode and are grouped into 5 regions of WA as listed below. All prices include GST.
Perth Metro – $6.50
Mandurah & Surrounds – $9.95
South West WA – $ 27.95
Central West WA & Pilbara – $45.00
Broome & Far North WA – $70.00
*Please note: Salon furniture/equipment occurs an additional charge. You will be contacted with the delivery charge once we've received your order. Alternatively, please call us and we'll notify you of the delivery charge before you order.
Our warehouse strives for same day despatch for orders placed before 11am. However during peak periods it may take up to 2 days.
As a guide:
All orders for delivery in the Perth Metro area and Mandurah will be shipped via Pep Transport. Delivery time is 1-2 days from the date of despatch.
All orders for delivery outside the Perth Metro area will be shipped via Toll Ipec. Delivery time is 1-2 days from the date of despatch.
Delivery to Broome is 2-3 days and far north WA is 5 days.
Please note that these delivery times are to be used as a guide only as stated by these transport companies. Hair Mart will not be held responsible for any delays or late delivery as this aspect is beyond our control.
If you have allowed adequate time for despatch and delivery and your order still hasn't arrived, please contact the office and we'll be able to check on your order progress.
If you know you will not be home to accept your delivery, please make a note at checkout that you authorise for your order to be left behind. Please provide instructions on where the order should be left. Otherwise, a card will be left notifying you of attempted delivery with instructions on what to do next.
We'll happily deliver anything listed on our website for one flat fee (refer to shipping costs FAQ). However, salon furniture incurs further freight charges.
Returns + Warranty
We will only accept goods for return if they are damaged, faulty or the incorrect goods were sent by us. These will be replaced at no charge or a full refund will be given for the particular item(s). Goods will not be accepted for a refund for a simple change of mind. If you receive your order which contains damaged, faulty or incorrect goods please email us at info@hairmart.com.au stating your name and contact details and the nature of the problem within 7 days of receipt of your order. We will then contact you to arrange pickup of the goods to be returned at no additional freight charge to you.
Please keep the original box and packing material to put the returned goods into if possible please. We will then send the replacement goods freight free or do a refund upon receipt of the returned goods back into our warehouse.
If you have an item that is faulty and you are within your warranty period please contact our team. Please locate and have your original purchase receipt to hand. Depending on the manufacturer's warranty policy your item will either be repaired or replaced.
a) If warranty is for replacement, you will need to return the item to us for assessment. If the item is deemed to be faulty we will arrange a replacement to be sent to you.
b) If the warranty is for repair, we will provide you with the closest repair centre details.
Payment & offers
Upon check out, you will be required to pay for your order via Payway. Payway accepts all Mastercard and Visa cards.
All of the prices listed on our website include GST.
Hair Mart offers the following rewards scheme on all purchases, in store and online:
Spend $250-499 and receive 2.5% off the total*.
Spend $500+ and receive 5% off the total*.
* Discount applies to full priced items only – items on sale or clearance do not
contribute towards your total spend. The discount will automatically apply during online
checkout or at the cash register if in store. Gift packs and opening deals do not attract
any further discount. Terms and conditions apply.